First Release!
I am pleased to announce that sumocard.io is now open for public usage in an open beta. Throughout the month of July 2018 we will be adding some new features and steadily working to improve the usability and performance of the system. Also, several new public word packs will become available to all users in the coming weeks so please check back frequently! I am working on creating some training videos that should help people get started and I also will be streaming some of my training sessions beginning in late July or early August on the sumocard.io youtube channel.
So what's new?
We've got a few new features that have been released, the two user facing enhancements are the newly designed word pack page as well as the finalized user settings page.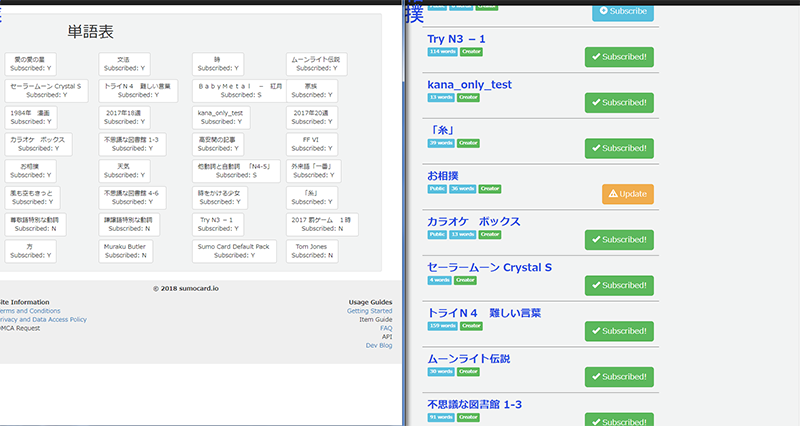 old word pack list on left, new on on the right
A few new things have been added to the package list page to make it easier to use:
Package word count
If the package is yours (you created it)
If the package is public
A subscription status button that allows subscriptions and updates from the list
The layout is a little nicer and creates space for us to integrate search functionality in the near future.
Also, the users settings page was added which allows for you to change your password, change the quiz size (10, 25 or 50 questions per quiz) as well as an opt-in for e-mail's. [The default is to opt out, it always has been and will continue to be the policy of sumocard.io to maintain users privacy as much as possible.]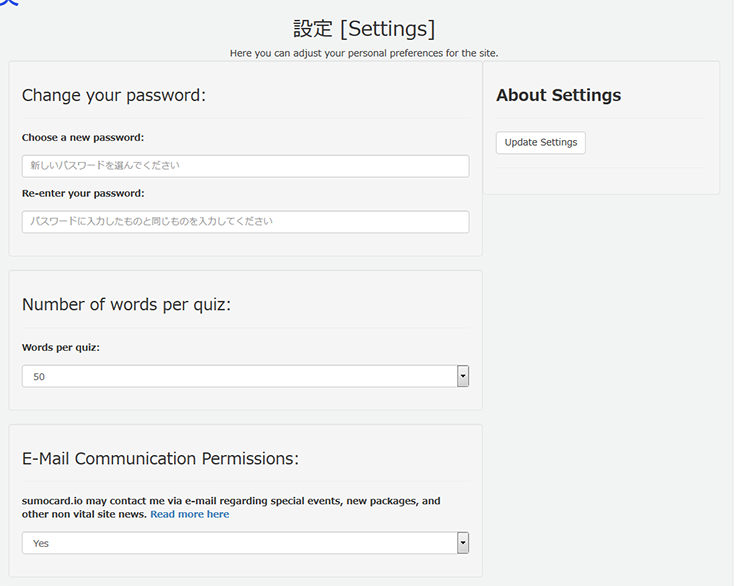 newly designed settings page
Great, what's next?
Well, a few under the hood changes have already been released which make the pages load even faster and will allow us to migrate the pages to a cloud file service (S3 or Google Cloud Storage) and speed deployment. As for user functionality, the next two features to go in are allowing alternate kanji/kana for quiz responses (example: 一昨年 should accept either いっさくねん or おととし as a correct response.) Also, a method to allow reporting of issues with words will be implemented. This will help us find, report, and track errors or issues with the system and hopefully make it better for everyone. So for now, have fun, study hard and 頑張って!!